Appointment request
See what you have to do to make an appointment and how to do it. To register for the T-mobilitat, book the appointment for one of the T-mobilitat kiosks.
The appointment details are:
Email:
Appointment code:
Appointment center:
Appointment service:
Appointment date:
Appointment schedule:
The appointment details are:
Email:
Appointment code:
Appointment center:
Appointment service:
Appointment date:
Appointment schedule:
Request for T-mobilitat
Before the appointment, download TMB App with T-mobilitat features and register for JoTMBé. You should also bring an official proof of identity document (DNI, NIE with TIE or passport).
At the appointment, we will register you with T-mobilitat and, if you wish we will show you how to carry out all the procedures via the TMB App. You can also take away your support (rechargeable card) already loaded with one of thetransport tickets available on T-mobilitat. Payment can only be made by credit or debit card.
If you are entitled to the discount for single-parent or large families, we can also enable this on your profile. In this case you will need to present your national ID card and the original, valid documentation proving that you are a beneficiary of the subsidised profile.
Get ready to use T-mobilitat
Download the TMB App and register for JoTMBé before your appointment. We will activate your user so that you can start using T-mobilitat.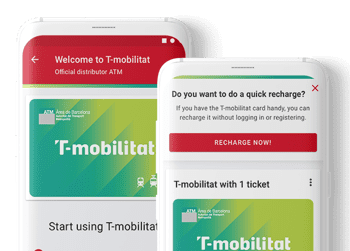 Authorization for T-mobilitat procedures on behalf of third parties
How to ask for an appointment
Enter the email address and choose the center, date, time and procedure you want to do. If the calendar does not show any activated date for this center, we suggest that you request an appointment for another center.
Once you have booked the date and time, you will receive an email with the reservation code, which you will need to enter when you arrive at the center.
The appointment is only for the service you have chosen, and only one person per appointment can be attended.
How to cancel an appointment
If you cannot attend an appointment, please cancel it. You can do this by entering the email address and booking code at Appointment cancellation. You can also cancel the appointment from the confirmation email.
For what procedures do you have to ask for an appointment?
Check the virtual office, there are many online procedures available, so you can do them whenever and wherever you like.
If you need face to face assistance, you have to request an appointment:
T-mobilitat – registration for T-mobilitat is free; only bank card is accepted to pay for the T-mobilitat support. You will need to bring your official ID (DNI, NIE with TIE or passport) with you to register for T-mobilitat. Check everything you need to know so that face-to-face care is more efficient at Request for T-mobilitat.
To exchange travel cards purchased by mistake: if you have bought a ticket or a travel card at the metro sales ticket machines and you realize that it is not the one you needed, we will exchange it for another one of equivalent amount as long as you have not used it.
To request an invoice: to request an invoice for tickets or passes purchased at vending machines, or from member establishments. Remember that they must be tickets from the integrated fare system TMB's own tickets (we do not offer this service for tickets or travel cards from other operators). You can also request a complete invoice for the T-mobilitat tickets.
To purchase large amounts: to pick up an order to buy more than 10 tickets or travel cards or to buy T-escolar travel cards with no minimum amount. You will have to pay for the travel cards on the spot, in cash or by card.
To collect lost property: to pick up, at Punt TMB Sagrada Família, an object you know has been found. You can check if the object you lost has been found by using the ;lost property form or by calling 900 701 149.
To submit a statement: to submit allegations in the event that you do not have the intervention bulletin or a reminder letter. You will need to provide specific details of date, time, place, name and surnames and identification document.
To register to purchase subsidised tickets online: to activate single-parent or large family profile. That profile will allow you to purchase the subsidised travel cards online on the web and from the TMB App.
To collect rewards: at Punt TMB Sagrada Família.