AMBici is the bicycle sharing service available in 15 municipalities within the Barcelona metropolitan area.

Get around the Barcelona metropolitan area with 100% electric top of the range bicycles and connect your journeys with the public transport network. The AMBci service will be making up 2,600 electric bicycles available to the public at 236 stations.
AMBici, the metropolitan bycicle service
Cycle the metropolitan area of ??Barcelona with the 100% electric bicycle.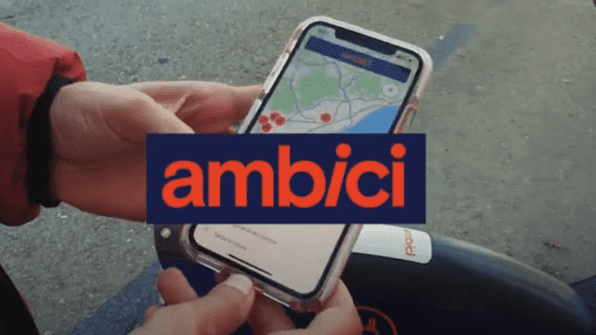 View the map of the stations and check availability, grab your bike and have a good journey!
Municipalities where AMBici arrives
You will find AMBici stations in Castelldefels, Cornellà de Llobregat, Esplugues de Llobregat, Molins de Rei, El Prat de Llobregat, Sant Boi de Llobregat, Sant Joan Despí, Sant Just Desvern, Viladecans, Gavà, Badalona and l'Hospitalet de Llobregat.
At later stages, AMBici will also be available in l'Hospitalet de Llobregat, Sant Adrià del Besòs and Sant Feliu de Llobregat.
Sign up

Registration is free, and you can register via either the website or the AMBici app, which you will be using when you travel. Sign up via your JoTMBé account. Choose the tariff and get pedalling.

Plan your journey

Open the AMBici app, look for the nearest stations and check the availability of bicycles via the search engine and on the map you will find there.

Choose your bike

Open the Ambici app, scan the QR code and the padlock will open automatically.

Returning your bike

Leave the bike at the station you have chosen, close the padlock and check the app to make sure you have returned it correctly. That's how simple it is!
Hire periods for bicycles
The first 30 minutes of each rental period is included (€0.15 from 2024). After the first 30 minutes, you will pay €0.50 for each additional 30 minute period, up to a maximum of 2 hours. If you exceed 2 hours, you will have to pay €5 for each additional hour.
FAQs
How can I pay for the AMBici service?
You can subscribe to the AMBici service via the website or via the mobile app, accessing the private user area. If you are not already registered, you will need to set up a JoTMBé account.
Where can AMBici bicycles be used?
To complete journeys between two AMBici stations, bicycles can be used in urban areas (including industrial estates) in the 15 municipalities where the service is offered, and on the inter-urban connections on the Bicivia network between the 15 municipalities.
What sort of bicycles are available using the AMBici service?
All bicycles in the AMBici fleet are 100% electric, and all have pedal assist. Specifically, the model is the e-SMARTbike 2.0, which is quick and safe to manoeuvre in an urban environment, with the rider always in control of the bicycle.
Download the AMBici app and start pedalling!
Find the nearest stations and check the availability of bicycles and car parking space on the map and via the search engine.