You can now buy and use the T-grup and the T-70/90 FM/FN for T-mobilitat
Sign up now and enjoy all the advantages of this new contactless validation system.
Discover all the tickets available for T-mobilitat.
Choose your support

Choose your support
What supports can I choose?
To use T-mobilitat, you will need to have a support that contains your tickets. The supports that allow contactless charging and validation are the following: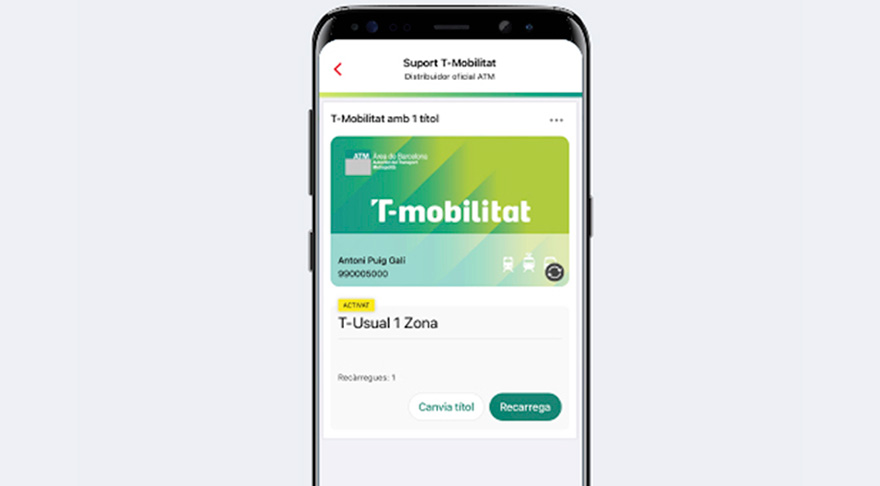 Mobile device
You can carry transport tickets and validate them directly if you use your mobile as a support. The device must have NFC technology and an Android operating system (version 7 or higher).
How do I use my mobile as a support?
Download TMB App and sign up with T-mobilitat.
Select the 'Mobile' option within the TMB App's 'T-mobilitat' section.
Activate your mobile support.During this process, you will be required to download a function known as electronic wallet, which will automatically be linked to your user profile and mobile phone, and where purchased tickets are stored. All you need to do is pay 1 Euro before uploading your first ticket. We recommend that you always have the latest version of the electronic wallet installed.
Upload your chosen ticket and you will be ready to validate via your mobile.
TMB App, your T-mobilitat ally
Make the most of all the advantages on offer from T-mobilitat: you can purchase and validate tickets and carry out any procedure from your mobile phone. Download the TMB App and be among the first to try it out!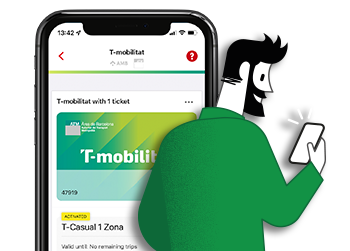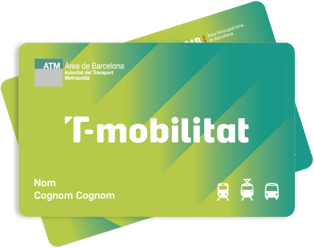 T-mobilitat card
It's a rechargeable personal card, with a security chip where transport tickets are uploaded. It can be used indefinitely, and has a guarantee period of five years.
Once you have filled in the T-mobilitat registration form, the card will be sent to the address you have indicated between five and ten working days. It costs 4.50 euros to buy.
How can I buy the card?
You can purchase the T-mobilitat card either online or in person:
Online
Sign up with T-mobilitat in TMB Tickets or in the TMB App.
Enter the 'T-mobilitat' section of your personal space, and choose the option 'Choose your support.' At the same time you can choose the transport ticket you want to upload to the support.
You will receive the card by post. To be able to use it, you need to activate it. Find out how to activate the T-mobilitat card.
If you have not yet loaded a travel ticket, you will need to do so in order to travel.
In person
Visit one of the T-mobilitat Kiosks you will find on the metro network. You have to request an appointment in advance for this.
If you are already registered with T-mobilitat, show your national ID card and request your support with the ticket you want to upload.
You will receive the card loaded with the ticket and already activated, so you can use it for your journeys right away.
Sign up with T-mobilitat
Discover the new contactless ticketing and validation system. There are lots of advantages with new features and online services to help you get around intelligently on public transport. Switch to T-mobilitat!
Get started now