How do you validate your ticket?

How do you validate your ticket?
Contactless validation with T-mobilitat
With T-mobilitat, ticket validation is faster and easier. All you need to do is hold the support (rechargeable card or mobile with an Android operating system and NFC technology) up to the contactless icon on the validators on buses and on the metro.
When you see the contactless validation device is backlit in blue, you can hold your support up to it. The system reads the contents of the support in a fraction of a second, and shines either a green or a red light depending on the message shown in the access control.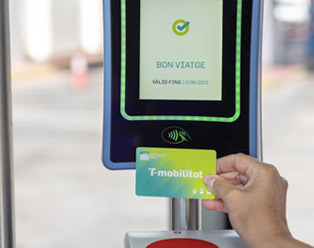 Correct validation of a transport ticket
If the light goes green when you hold up your support, allow you through, and to start your journey.
Incorrect validation of transport ticket
If the light goes red when you hold up your support, you will not be able to access the transport. If the ticket is not successfully validated, this could be due to a scanning error, the fact that the support is blocked, the user is outside the validity zone, or the ticket is invalid or has expired, among other reasons.
In these cases, you need to solve the problem through T-mobilitat procedures (recharge, use a valid title, etc.). If in doubt, contact customer service staff or digital customer service channels.
If the validator does not emit any signal, it is likely that there is an incident with the support. In this case, you need to manage an incident ticket.
When a ticket inspector asks to see your transport ticket, you should show them the reusable card or mobile phone so that they can check the validation of your journey. Remember that if you use your mobile as a support, it is your responsibility to ensure that the battery is sufficiently charged, and that it is working correctly to enable you to prove that you have a valid ticket for your journey. Find more information in the T-mobilitat guide.
Validation of tickets with magnetic strips
You can continue to validate tickets with magnetic strips in the usual way by putting them in the ticket machines so that the system can read the code, and allow you to start your journey.
Sign up with T-mobilitat
Discover the new contactless ticketing and validation system. There are lots of advantages with new features and online services to help you get around intelligently on public transport. Switch to T-mobilitat!
Get started now