Sales and customer services

Sales and customer services
Where can I buy T-mobilitat supports and tickets?
These are the available sales channels are where you can purchase transport supports and tickets for your journeys.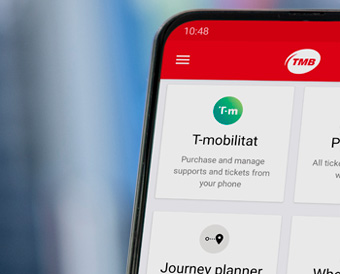 In person
If you want to buy a T-mobilitat card loaded with a transport ticket, please contact a T-mobilitat kiosk. Remember that you need to be registered in the system. You can do this at the time of your visit. You will need to request an appointment in advance.
If you already have a T-mobilitat card and you'd like want to upload or re-upload a ticket to it, you can do that from the metro network's ticket machines.
We answer your questions and explain about how to manage your T-mobilitat
We inform you of the customer service and information channels that you can contact in the event of operational problems or the loss of your T-mobilitat, or to clear up any questions you may have.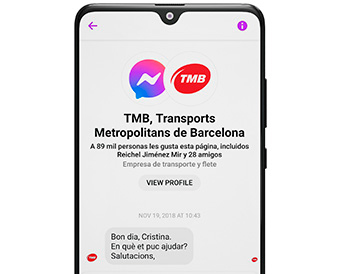 Digital customer service
Social networks: on Twitter, @TMBinfo, and on Facebook Messenger
TMBbot: the virtual assistant you can access from this website.
WhatsApp: exclusive for T-mobilitat queries. We're here to help from Monday to Friday, from 7 a.m. to 8 p.m. Write to us via WhatsApp at +34 607 684 087 just so we can answer your questions about T-mobilitat.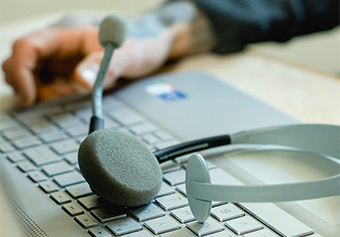 Customer service by phone
We also deal with general enquiries and certain procedures by phone. Call +34 900 70 11 49 from Monday to Sunday, 8 a.m. to 9 p.m.
In-person customer service
T-mobilitat Kiosks: T-mobilitat registration. When signing up, you can get your support (rechargeable card), pre-loaded with the transport ticket you have chosen. You will need to request an appointment in advance.
Sign up with T-mobilitat
Discover the new contactless ticketing and validation system. There are lots of advantages with new features and online services to help you get around intelligently on public transport. Switch to T-mobilitat!
Get started now
If you're not sure, find out more
Find out about all the procedures that are possible with T-mobilitat.

We explain what you need to do to get connected and use T-mobilitat.

Find the answers to your questions about T-mobilitat.