T-16
Ticket for children aged 4 to 16. Only available for T-mobilitat.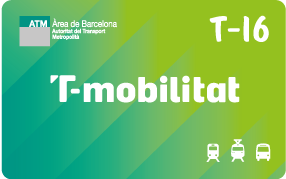 Number of journeys : Unlimited
Validity : Specific

Only available with T-mobilitat. Buy one and upload it to your T-16 card from TMB Tickets website.

Available on the

App Store

Available on the

Google Play

Want to know more about T-mobilitat? Find out all about it.
Description
The T-16 is a travel card for one zone for children and teenagers aged from 4 to 16 (up to 31 December of the year of their 16th birthday), personalised with the user's name and documentary proof of identity. It allows for unlimited free travel while the card remains valid.
It is valid for the zone of residence of the minor. If the minor lived in ring 1, the T-16 can also be used for the Aeroport T1 and Aeroport T2 metro stations of Line L9 Sud.
Prices of the T-16 travel card by zone
How can you get one?
Register as a T-mobilitat user.

Create a T-mobilitat account and link it to your JoTMBé account. You can do it in minutes from TMB Tickets or TMB App.

Go to your T-mobilitat profile and register the person under 16 as someone in your charge.

You will need to attach the following documents: national or foreign-national ID (both sides of the document of the person in your charge) or passport (the page of the currently valid document showing the photograph and details of the minor in your charge) or family book (the page where the family book number appears and the page of the minor you are registering).

Registering the person in your charge requires verification by an official, so it can take up to two days.

Request a T-16 card.

Once you've received confirmation that the T-16 profile has been allocated to the minor in your charge, you can apply for the medium and ticket. The ticket is free. The medium is a PVC T-mobilitat card with a specific design and which only T-16 tickets can be loaded to. The card costs €4.5.

It will be delivered to your home within 10 work days. You can find out the card's processing status in "T-mobilitat requests" from TMB Tickets.

Activate the card.

Find out how to activate it from the Activating the T-mobilitat card page.
Other T-16-related information and procedures