T-16
Ticket for children aged 4 to 16. Available for T-mobilitat.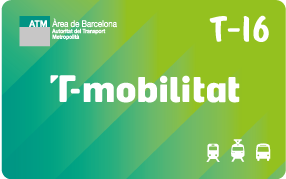 Number of journeys : Unlimited
Validity : Specific
Description
The T-16 is a travel card for one zone for children and teenagers aged from 4 to 16 (up to 31 December of the year of their 16th birthday), personalised with the user's name and documentary proof of identity. It allows for unlimited free travel while the card remains valid. It is also valid for the Aeroport T1 and Aeroport T2 metro stations of Line L9 Sud.
Requirements
To be between 4 and 16 years old (up to the 31 December of year of the 16th birthday)
To be officially registered as a resident of one of the municipalities that falls under the authority of the Metropolitan Transport Area of Barcelona. You can check which municipalities these are on the zone map of the integrated fare system.
The T-16 ticket is personal and non-transferable and needs to be validated each time any transport service is used.
It must be accompanied the holder's DNI/NIE/passport/family book (or a photocopy of any of these official documents) as proof of identity. In situations where the travel pass makes reference to the family book, the pass also must be accompanied by the DNI/NIE/passport of one of the named holders of the family book (or a photocopy).
In the case of minors who are transgender, the name indicated on the T-16 and the supporting proof of identity document may not coincide. In this case, it should be accompanied by a certificate from the administration responsible for LGBT matters, which proves that their health card corresponds to the supporting proof of identity document (DNI/NIE/passport/family book), the number of which is shown on the T-16.
Prices of the T-16 travel card by zone