Metropolitan Pink Card
An individual travel card to travel for free or at a reduced rate.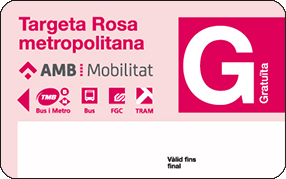 Number of journeys: Unlimited
Validity: Specific
Description
The targeta rosa metropolitana, or metropolitan pink card, is a personal and non-transferable document that allows you to travel on the metro network, TMB regular bus lines, FGC among the metropolitan fare municipalities, the Tram and other AMB bus lines in the city (except the Aerobús). Valid for Aeroport T1 and Aeroport T2 metro stations on L9 Sud.
There are two types of metropolitan pink card: the free metropolitan pink card and the reduced-fare metropolitan pink card.
The free pink card entails a single annual payment for management expenses and compulsory travel insurance. To use it correctly, you must validate it (put it through the machine) every time you travel on public transport and have your DNI or equivalent document with you, as proof that the person using it is the owner.
The reduced-fare pink card entitles you to use aT-4 card. A T-4 must be validated each time public transport is used and must be accompanied by a pink card and DNI or any other document proving identity.
The use of one or other pink card (free or reduced-fare) depends on annual income and the municipality of registered residence.
The body that establishes the characteristics of the travel card is Àrea Metropolitana de Barcelona website.
For more information, see terms of use of tickets.
Requirements
This card can be applied for by people who have a recognised disability equal to or greater than 33% or who are over 60 years of age (this age varies according to municipality) and who are registered residents of a municipality of the Barcelona metropolitan area.
Find detailed information on the different types of targeta rosa and the application process on the Àrea Metropolitana de Barcelona website.
Should you lose your targeta rosa, notify your town council (at the district office, if you live in Barcelona).
Prices by zone