Metropolitan Pink Card
Individual ticket for an unlimited number of journeys in one year.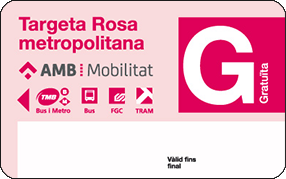 Number of journeys: Unlimited
Validity: Specific
Description
An individual travel card for an unlimited number of journeys valid for one year. It must be used in conjunction with a national or foreign resident's ID card. It is valid on the metro network, TMB regular buses, FGC urban train lines, the Tram and other AMB bus lines (except the Aerobús). Valid for Aeroport T1 and Aeroport T2 metro stations on line L9 Sud.
To use this card correctly you should validate it (mark it at the ticket barrier) every time you use public transport and always have ID on you as proof that the user is the authorised holder.
For detailed information and processing of the targeta rosa, go the Àrea Metropolitana de Barcelona website.
For more information, see the terms of use of tickets.
Requirements
This card can be applied for by people who have a recognised disability equal to or greater than 33% or who are over 60 years of age (this age varies according to municipality) and who are registered residents of a municipality of the Barcelona metropolitan area.
Find detailed information on the different types of targeta rosa and the application process on the Àrea Metropolitana de Barcelona website.
Should you lose your targeta rosa, notify your town council (at the district office, if you live in Barcelona).
Prices by zone