T-jove FM/FN general
Discount ticket for under 25s. Young person's ticket for members of general single-parent and large families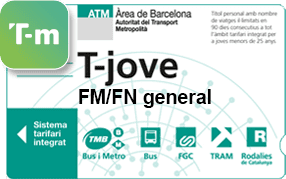 Number of journeys: Unlimited
Validity: Quarterly

Ticket available with T-mobilitat. Buy it and download it to your mobile or to your card at TMB Tickets website or with TMB App.

Available on the

App Store

Available on the

Google Play

Want to know more about T-mobilitat? Find out all about it.
Description
Requirements
To anyone under the age of 25 with:
A general large family with proof, or
A general single-parent family with proof
Prices of the T-jove FM/FN general travel card by zone
Points of sale
TMB Tickets website and TMB App.
Integrated Fare System operator ticket offices.
Other travel cards