From the coach station
If you are arriving at the Barcelona Nord coach station, there's a metro station a short walk away.
Barcelona Nord coach station
Barcelona Nord is the city's main coach station. Coaches leave from there for destinations in the Catalan regions, provincial capitals in the rest of Spain, Europe and North Africa.
Com accedir a la xarxa de metro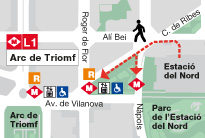 It's easy to get to the metro at Arc de Triomf (L1) station.
For more information on how to get about on the metro and bus, use the Going to tool. Enter the station as the origin and the address you want to go to as the destination (hotel, apartment, etc.).
Tips for visitors to Barcelona
If you want to get about on public transport during your stay in the city, we recommend you buy an Hola BCN! travel card, that lets you take as many journeys as you like over 2, 3, 4 or 5 days, including journeys to the airport.
You can buy Hola BCN! cards in any metro station, but if you buy online you get 10% off.