Single ticket
One metro, bus or funicular journey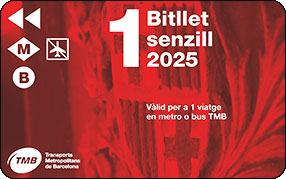 Number of journeys: 1
Validity: Until prices change
Description
A ticket valid for a single journey on a TMB bus, metro (except Aeroport T1 and Aeroport T2 metro stations on line L9 Sud) or the Montjuïc funicular. This is an individual non-integrated ticket.
For more information, see the terms of use of tickets.
Prices by zone
Points of sale
Metro automatic vending machines.
TMB App.
Punt TMB information and customer service centres.
Other travel cards