5 day Hola Barcelona Travel Card (120h)
The 5 day travel card includes unlimited journeys on Barcelona public transport over 120 hours after the first validation.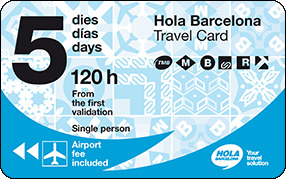 Number of journeys : Unlimited
Validity : 120 hours as of first validation
Description
Advantatges of the Hola Barcelona Travel Card
All the journeys you need for 5 days at one price.
Hola Barcelona Travel Card covers travel between the airport and the city centre on public transport.
Changeovers between different travel operators: metro, Montjuïc funicular, bus (TMB), urban railway (FGC, Zone 1), tram (TRAM) and Barcelona regional mainline trains (Rodalies de Catalunya, Zone 1). Montjuïc Cable Car not included.
Where can I get them?
You can buy Hola Barcelona Travel Card online and get 10% off. You can also buy it at the Hola Barcelona Store, located in the L3 lobby os the catalunya metro station or buy them from vending machines and Punt TMB customer service centres in the metro, or from Tourist Information Offices around the city.
If you buy online or at Hola Barcelona Store, change your voucher for travel cards at machines in the metro.
How it works
You can start using your Hola Barcelona Travel Card at any time of day and get unlimited journeys over 120 hours on Barcelona public transport.
Hola Barcelona Travel Card are valid for one person only.
Unvalidated cards expire on 28 February of the year following purchase.
To use your card, validate it at the beginning of every journey. Try to keep it in perfect condition.
Prices by zone