T-verda
A free travel card for three years for people who decide to get rid of and decommission vehicles without an environmental certificate.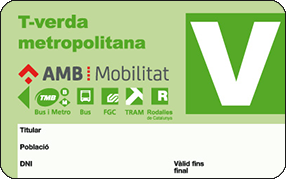 Number of journeys : Unlimited
Validity : Specific
Description
People living in the metropolitan area who decide to get rid of and decommission a vehicle without an environmental certificate can benefit from the T-verda, a new travel card that is free for three years. This card is personal and non-transferable (featuring the person's name and DNI/NIE number) and must be validated on each journey. The card is automatically renewed annually at no additional cost to the beneficiary and is sent to their home address.
The body that establishes the characteristics of the travel card is Àrea Metropolitana de Barcelona (AMB).
If you live in the Barcelona Metropolitan Area, you can apply for your T-verda on the AMB website. If you live outside the 36 municipalities of the AMB area, you should apply to and undertake all procedures on the Metropolitan Transport Authority website. There are two types of T-Verda card, one for users residing in the AMB area and one for those residing in other towns in the integrated fare system.
For further information, call 900 700 077 or use the AMB customer services form.
For more information, see the terms of use of tickets.
Requirements
The person applying for the T-Verda card must be resident in the Barcelona Metropolitan Area (AMB) and must provide proof that they:
Are aged over 18.
Are registered as a resident of the Barcelona Metropolitan Area (for AMB municipalities).
Have decommissioned a vehicle owned by them and made a commitment not to buy another one during the validity period of the T-Verda card. Only vehicles that have been scrapped in the six months prior to the application for the card will be valid. In addition, the motor vehicle tax (IVTM) must have been paid in a municipality within the AMB.
Have not purchased a vehicle in the six months prior to the date the application is submitted.
The vehicle owned by the applicant must be among the following:
Diesel cars (M1) up to EUR 3 (registered before 2006. No DGT label).
Petrol (M1) or diesel cars up to EUR 2 (registered before 2000. No DGT label).
Pre-EUR or EUR 1 motorcycles (scooters registered before 17/06/2002 and motorcycles registered before 01/07/2004).
6. Applicants living outside the 36 municipalities in the AMB should submit applications and deal with all formalities directly with the Metropolitan Transport Authority.
For more information, see terms of use of the T-verda.
Prices of the T-verda travel card by zone