Tickets purchased in 2023 expire on 29 February 2024
The fare reduction for the T-4, the T-70/90 FM/FN and all types of the T-usual and the T-jove continues to apply until 31 December 2023.
T-jove (Young person's ticket)
Ticket for under 30s. Single price for the six rings within the integrated fare system. Available exclusively for T-mobilitat.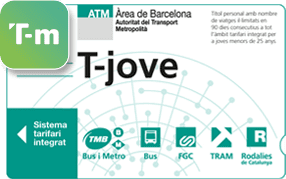 Number of journeys : Unlimited
Validity : Quarterly
Only available with T-mobilitat. Buy it and download it to your mobile or to your card at TMB Tickets website or with TMB App.

Available on the

App Store

Available on the

Google Play

Want to know more about T-mobilitat? Find out all about it.
Description

A personalised travel card valid for an unlimited number of journeys in 90 consecutive days from the first validation for under 30s providing proof of age by means of a valid national ID document, foreigner ID document (NIE) or passport. Valid for Aeroport T1 and Aeroport T2 metro stations on line L9 Sud.
The body that establishes the characteristics of the travel card is the Autoritat del Transport Metropolità (ATM).
For more information, see the terms of use of tickets.
Requirements
To anyone under the age of 30.
Only for T-mobilitat.
Points of sale
Points of sale of T-mobilitat. Among others:
Automatic ticket vending machines on the TMB metro network.
TMB App.
TMB Tickets and T-mobilitat Kioscs, at the time of registration and when requesting the support.
Prices of the T-jove travel card by zone
Other travel cards