T-casual
Individual 10-journey ticket.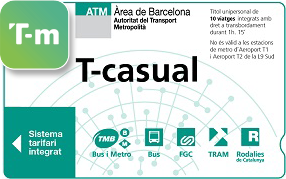 Number of journeys: 10
Validity: Until prices change
Ticket available with T-mobilitat. Buy it and download it to your mobile or to your card at TMB Tickets website or with TMB App.

Available on the

App Store

Available on the

Google Play

Want to know more about T-mobilitat? Find out all about it.
Description
Individual travel card valid for 10 intermodal journeys from 1 to 6 zones. In the case of one-zone cards, passengers have 75 minutes between the first and last validation when changing lines or mode of transport. This time increases by 15 minutes for each zone. Not valid for Aeroport T1 and Aeroport T2 metro stations on line L9 Sud.
You can also be interested in T-familiar, a multi-person travel card valid for 8 journeys in 30 consecutive days.
The body that establishes the characteristics of the travel card is the Autoritat del Transport Metropolità (ATM).
For more information, see the terms of use of tickets.
Prices of the T-casual travel card by zone
Points of sale
TMB bus and metro automatic vending machines (except for ticket machines at the airport metro stations).
Website and TMB App (with collection from metro station ticket machines except the ones at the airport).
TMB customer service and information centres (Punts TMB).
Other Integrated Fare System operators (stations).
Other operators' information centres.
Other travel cards