T-FM/FN 70/90 especial
Special discount multi-person tickets for 70 journeys in 90 days. Special single-parent and large family ticket.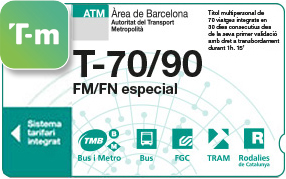 Number of journeys: 70
Validity: Quarterly
Description
A multi-person 90-day travel card for members of special-type single-parent and large families, valid for 70 journeys. It must be used in conjunction with a valid ID–national ID document and large family card or single-parent family card. In the case of one-zone cards, passengers have 1 hour and 15 minutes between the first and last validation when changing lines or mode of transport. This time increases by 15 minutes for each additional zone. Valid for Aeroport T1 and Aeroport T2 metro stations on line L9 Sud.
The body that establishes the characteristics of the travel card is the Autoritat del Transport Metropolità (ATM).
For more information, see the terms of use of tickets.
Requirements
A special large family with proof, or
A special single-parent family with proof
Prices of the T-FM/FN 70/90 especial travel card by zone
Points of sale
Website and TMB App.
Integrated Fare System operator ticket offices.
Other travel cards