Companion pass
A ticket enabling those accompanying persons with special needs to travel free.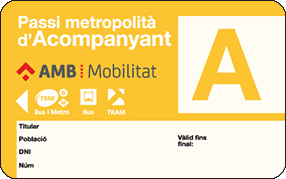 Number of journeys : Unlimited
Validity : Specific
Description
This card enables the holder to use Barcelona Metropolitan Area (AMB) collective public transport, and their companion to travel free. It is valid for a limited amount of time and is renewed periodically if the holder's circumstances remain unaltered. It can be used on the metro network, regular TMB buses, other EMT lines, TRAM and FGC among Metropolitan fare municipalities. The holder must validate the corresponding travel card and show the companion's travel in order for their companion to travel free of charge. Valid for Aeroport T1 and Aeroport T2 metro stations on line L9 Sud.
You can find all the information and how to go about getting a travel card for companions on the Àrea Metropolitana de Barcelona website.
The body that establishes the characteristics of the travel card is Àrea Metropolitana de Barcelona (AMB).
For more information, see the terms of use of tickets.
Requirements
To accompany a person with special needs
Prices by zone