Which lines?
The newest lines are automated and some of the others will be converted in the future.
Barcelona's driverless line 9/10 automated metro project is a benchmark in Europe, in terms of the advanced technology used to control and monitor trains and the innovative station architecture and operation management. Barcelona also has experience with line 11, a conventional line converted to driverless.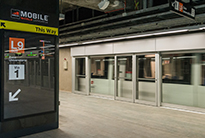 The planned line 9 route is 47.8 km long (43.71 km underground) and 52 stations in five municipalities of the Barcelona metropolitan area (Santa Coloma de Gramenet, Badalona, Barcelona, L'Hospitalet de Llobregat and El Prat de Llobregat). The central section is shared with line 10.
At present there are two sections of line 9 in operation:
The section known as L9 Nord, which links Santa Coloma de Gramenet with Bon Pastor and La Sagrera (Barcelona) covers 11.1 km and has nine stations. On 13 December 2009 the first service began operation between Can Zam and Can Peixauet, and on 18 April 2010 the extension was opened from Can Peixauet to Bon Pastor, along with the stretch of line 10 between Bon Pastor and Gorg (Badalona). Subsequently, service on L9/10 project lines was extended with two stations as far as La Sagrera.
On 12 February 2016 the newest section of this line, known as L9 Sud, entered operation linking Barcelona-El Prat Airport with Zona Universitària and covering 20 km with 15 new stations.
Altogether, the north and south sections of line 9 serve areas and districts that previously had no metro service, such as Bon Pastor, Llefià, La Salut, Singuerlín, Sant Cosme and the centre of El Prat de Llobregat, and link logistics centres and facilities such as Barcelona-El Prat Airport, the Mas Blau and Zona Franca industrial estates, the Fira de Barcelona exhibition centre, the Barcelona City of Justice and the UB and UPC university campuses.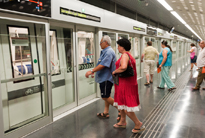 Metro line 10 currently has six stations in operation between Gorg (Badalona) and La Sagrera (Barcelona), and covers 5.6 km.
Line 10 began commercial service on 18 April 2010 between Gorg (Badalona) and Bon Pastor (Barcelona) stations, and it was opened along with the extension of line 9 from Can Peixauet to Bon Pastor. Line 10 joins L9 at this station and passengers can change from one to the other. At the end of June 2010 the stretch between Bon Pastor and La Sagrera was opened, which coincides with the line 9 route.
When completed, line 10 will link Badalona, Barcelona, L'Hospitalet de Llobregat and La Zona Franca, and will enable transfers to many other places in the metropolitan area.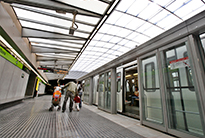 Line 11 serves the Nou Barris district of Barcelona and the town of Montcada i Reixac. This line, covering 2.15 km, was built in the early 2000s as an extension of line 4 at Trinitat Nova station. It was designed to serve a number of districts with poor transport services.
Line 11 opened on 15 September 2003 with five stations: Trinitat Nova (L4 and L3), Casa de l'Aigua, Torre Baró/Vallbona, Ciutat Meridiana and Can Cuiàs. Like all the new lines, it is wheelchair adapted. It is a light railway line with two-carriage trains, unlike the five-carriage conventional metro trains.
It is also an exemplary case of conversion from a conventional line to an automated line, and was the first to include comfort and safety features such as the platform door closing system, before line 9/10, the first driverless line (December 2009).