Which lines?
The newest lines are automated and some of the others will be converted in the future.
Barcelona's driverless line 9/10 automated metro project is a benchmark in Europe, in terms of the advanced technology used to control and monitor trains and the innovative station architecture and operation management. Barcelona also has experience with line 11, a conventional line converted to driverless.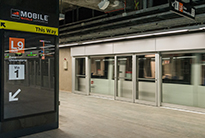 The total length of the Line 9 covers 47.8 km (43.71 km of which are underground) and has 52 stations throughout five municipalities in the metropolitan area of Barcelona (Santa Coloma de Gramenet, Badalona, Barcelona, l'Hospitalet de Llobregat and Prat de Llobregat). The central part of the route is shared with Line 10.
There are currently two sections of Line 9 in operation:
The branch known as L9 Nord, connecting Santa Coloma de Gramenet with Bon Pastor and La Sagrera (Barcelona), is 11.1 km long and has nine stations. On 13 December 2009 the first service between Can Zam and Can Peixauet went into operation, and on 18 April 2010 the extension from Can Peixauet to Bon Pastor was opened, along with the section of Line 10 between Bon Pastor and Gorg (in Badalona). Later on, the services on the L9/10 project were expanded to include two more stations en route to La Sagrera.
On 12 February 2016 a new section of this line came into service, named L9 Sud, that connects the airport of Barcelona-El Prat with Zona Universitària, a journey of nearly 20 km with 15 new stations.
Between them, the north and south sections of Line 9 provide service to areas and districts that had no previous access to the metro, such as Bon Pastor, Llefià, la Salut, Singuerlín, Sant Cosme and the center of Prat de Llobregat, and they also connect logistics and equipment centres such as the Airport of Barcelona-El Prat, the Mas Blau and Zona Franca industrial estates, the Fira convention and exhibition center, the City of Justice and the university campuses of the UB and the UPC.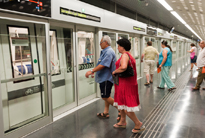 Line 10 Nord is 5.6 km long and currently has six stations in operation between Gorg (Badalona) and La Sagrera (Barcelona).
Line 10 Sud is 8.5 km long and has eleven stations in operation between ZAL / Riu Vell and Collblanc.
The first commercial service on Line 10 Nord was operated on 18 April 2010 between the stations of Gorg (Badalona) and Bon Pastor (Barcelona), and it was launched jointly with the extension of Line 9 from Can Peixauet to Bon Pastor. At this latter station, Line 10 comes together with Line 9 to form a connection between the two. At the end of June 2010, the Bon Pastor to La Sagrera section was opened, following a route that mirrors that of Line 9.
In September 2018 the first section of Line 10 Sud was opened between Foc and Collblanc.
Provençana, Ciutat de la Justícia and Zona Franca stations of line 10 Sud were opened on 2 March 2019, on 23 November 2019 and on 1 February 2020, respectively. ZAL / Riu Vell, Ecoparc and Port Comercial / La Factoria stations were opened on 7 Novembre 2021.
In the future, when it is totally complete, Line 10 will connect Badalona, Barcelona, l'Hospitalet de Llobregat and Zona Franca, and will facilitate connections with many other places and locations within the metropolitan area.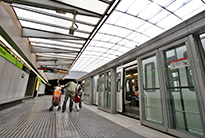 Line 11 provides a metro service from the Nou Barris district of Barcelona and the municipality of Montcada i Reixac. This line, 2.15 km in length, was built in the early years of the new century as an extension to Line 4 from the station of Trinitat Nova. It was designed to provide a service to districts with traditionally poor public transport connections.
Line 11 was opened on 15 September 2003 with five stations: Trinitat Nova (L4 and L3), Casa de l'Aigua, Torre Baró/Vallbona, Ciutat Meridiana and Can Cuiàs. As with all new lines, it was constructed already adapted for people with reduced mobility. It is a light metro line with trains consisting of two carriages as opposed to the conventional metro which operates trains with five carriages.
It is, at the same time, an example of the conversion from conventional to automated lines, and was the first to incorporate safety and comfort features such as the system of closing doors on the platform, ahead of Line 9/10, which was the first to operate without a driver (December 2009).