From: 23/06/2022
To: 24/06/2022
Barcelona Metro schedule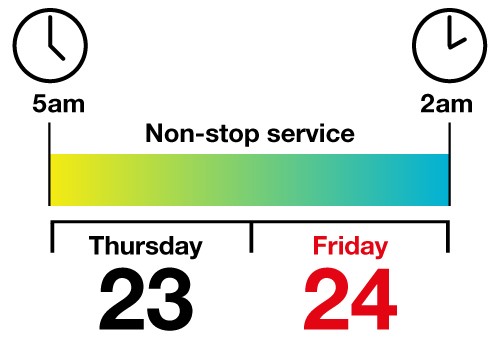 The metro timetable for the Sant Joan festivities will be as follows:
Thursday, June 23: uninterrupted service throughout the night.
Friday, June 24th: the metro service ends at 2 am.
Saturday, June 25th: regular service uninterrupted.
Sunday, June 26th: service until midday.
Check the Barcelona Metro schedule
More information
For any queries, TMB provides users with an information and citizen service helpline 900 701 149 (Monday to Sunday, from 08:00 am to 9:00 pm) and also an information and customer service account on Twitter (Monday to Friday workdays from 07:00 am to 8:00 pm)
If you would like information on other upcoming events that may affect public transport services or any other transport recommendations, go to the Service Status section.