New station!
On Sunday 25 July, Ernest Lluch station went into operation in L5, and will be located between Pubilla Cases and Collblanc stations.

Ernest Lluch
The new station will favor the connection of public transport, since it will allow the correspondence with the lines T1, T2 and T3 of Tram and several lines of intercity buses. In this way, the coverage of the L5 metro service will be extended and, at the same time, it will facilitate intermodality in transport.
Ernest Lluch station entrances
Avinguda de Xile.
Cementiri de Sants.
Stations in metro L5
The L5, with the incorporation of the Ernest Lluch station, now has 27 stations:
Gavarra.
Sant Ildefons.
Can Boixeres.
Can Vidalet.
Pubilla Cases.
Ernest Lluch

(NOVA!)

. Connects with T1, T2 and T3 Tram lines.
Badal.
Plaça de Sants: connects with L1.
Entença.
Hospital Clínic.
Verdaguer: connects with L4.
Sagrada Família: connects with L2.
Sant Pau | Dos de Maig.
Camp de l'Arpa.
Congrés.
Maragall: connects with L4.
Virrei Amat.
Vilapicina.
Horta.
El Carmel.
El Coll | La Teixonera.
Vall d'Hebron: connects with L3.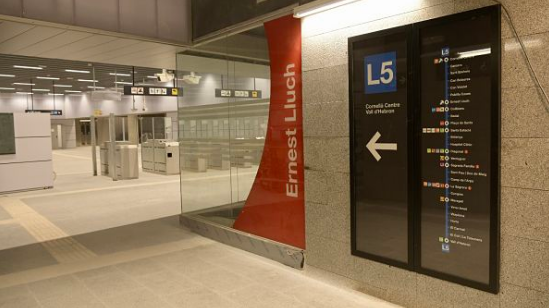 More information
Consult preventive measures against coronavirus.
For any queries, TMB provides users with an information and citizen service helpline 900 701 149 (Monday to Sunday, from 08:00 a.m to 9:00 p.m) and also an information and customer service account on Twitter (Monday to Friday workdays from 07:00 a.m to 8:00 p.m)
If you would like information on other upcoming events that may affect public transport services or any other transport recommendations, go to the Service Status section.