Discover the new on-demand bus service

We offer you a new, more sustainable and intelligent form of local transport that works on demand and adapts to your needs.

Stops are fixed and passing times and routes are generated based on requests of other users with similar needs. You must indicate the time you want to travel, the stop where you will go up, the stop where you will get off and how many people you will travel there.

The bus does not have a fixed route, but will be as short as possible to connect the requested stops.
It makes planning easier

The bus takes you to the stop of your choice, when best suits you.

Travel more confortably

The service guarantees your spot on the bus and reduces wait times at the stop.

More accessible and sustainable service

Routes are easier and simpler, making them more energy efficient.

Smart service

You design your bus journey, and all you need is your mobile phone or a landline phone to make the call.
Select the on-demand bus area you wish to access. You can also do this from the map.
How the elMeuBus app works
Watch the playlist where we explain how to install the elMeuBus app and how to make or cancel a reservation. (CA)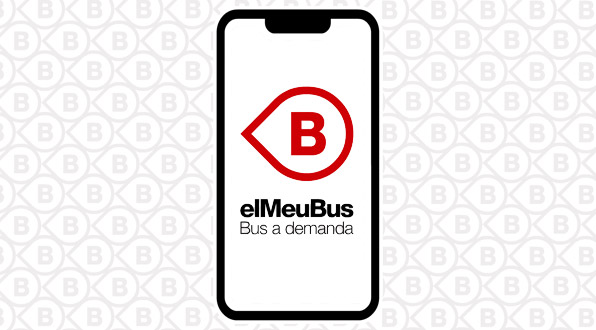 Using the elMeuBus app

Download the app and book your journeys easily and conveniently.

By phone

If you do not have a mobile or if your mobile does not have internet, you can call us at 900 927 575.
Book with the elMeuBus app!
The elMeuBus app it's free and it calculates the routes to get to your destination in a convenient, fast and safe way. It also allows you to have favorite places, repeat reservations, and receive notifications in case of incident.
How do I book?
Remember that to make the reservation you have to register through the app or make it by phone.
1

Collection point

Indicate the address or GPS location at which you want to start your journey.

2

Provide details

Indicate the address or GPS location at which you want to start your journey.

3

Drop-off point

Indicate the address or GPS location at which you want to be dropped off.

4

Preferred date and time

Indicate the time and date you want to travel.

5

Suggested service

We will provide you with the journey that best suits your needs.
Operating hours
| Type of day | Operating hours |
| --- | --- |
| Monday to Friday | From 07:00 to 21:00 |
| Saturday | From 08:00 to 21:00 |
| Diumenges i festius | From 09:00 to 21:00 |
Requests implying that the bus must be on service after 21:30 pm will not be accepted.
Service price
The on-demand bus service has no additional cost. You can get there using the same tickets and passes you normally use for travelling by bus.
FAQs
How far in advance do I have to register my request?
Make your reservation at least 10 minutes in advance so that we can offer you the trip that best suits your needs; always keep in mind that the times you request are within the times when the bus offers service.
What happens if I don't have a mobile with internet connection?
Not having an internet connection via your mobile is no problem, as you can book by calling from any phone.
How can I modify or cancel a booking?
You can use the elMeuBus app and the contact phone number to cancel or modify your booking details, such as the number of passengers or if you are travelling with a pushchair. If you need to change the origin, destination, date or time, you should cancel the booking and make a new one.
We attend you and resolve your doubts from 07:00 to 20:30 from Monday to Friday, from 08:00 to 20:30 on Saturdays and from 9:00 to 20:30 on Sundays and holidays.