T-escolar (School ticket)
Individual ticket for school groups.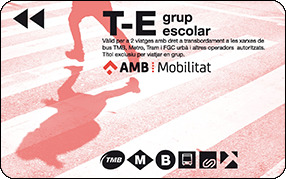 Number of journeys: 2
Validity: Until prices change
Description
Two-journey travel card valid on transport in the integrated fare system: metro (except Aeroport T1 and Aeroport T2 metro stations on line L9 Sud), regular TMB buses, FGC urban train lines, Tram, TUSGSAL buses and Mohn buses. It is for use by groups of school children and the teachers accompanying them only and may not be used by individuals. When purchased, proof of status must be provided, obtainable from the Barcelona Municipal Institute of Education (IMEB).
For more information, see the terms of use of tickets.
Prices of the T-escolar travel card by zone
Points of sale
Other travel cards