Temporary price reduction and validity until 15 January
From 1 September to 31 December 2022, reductions in T-4, T-casual and all types of T-usual, T-jove (young person's ticket) and T-70/90 FM/FN prices. All travel tickets purchased during 2022 expire on 15 January 2023 if they do not have a specific expiry date.
Check out more information at Price reduction on transport fares webpage.
T-aire
Multi-person card for two journeys on days with high air pollution levels only.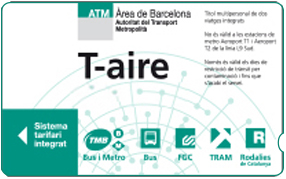 Number of journeys: 2
Validity: Daily
Description
A multi-person ticket for two integrated journeys. It is valid for all modes of transport according to the zones travelled (up to a maximum of six zones) and should be used on the day of first validation.
It can only be bought and validated on days decreed as traffic-restricted due to high air pollution levels in case of NO2 environmental event.
This ticket is not valid at airport metro stations Aeroport T1 and Aeroport T2 on L9 Sud.
More information on the AMB website (CA).
Prices of the T-aire travel card by zone
Points of sale
Ticket vending machines in the TMB bus and metro network.
Other travel cards