T-4
Individual 10-journey ticket for over-60s and people with a recognised disability.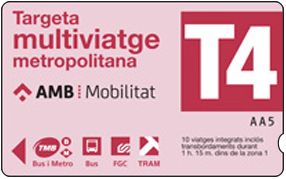 Number of journeys: 10
Validity: Until prices change
Description
Individual travel cards for users that meet a number of requirements. Valid for 10 intermodal journeys on the TMB bus and metro network (except special services and the Barcelona Bus Turístic), the Barcelona Metropolitan Area (AMB) bus network, Ferrocarrils de la Generalitat de Catalunya (FGC) and Tram (zone 1 only). Valid for Aeroport T1 and Aeroport T2 metro stations on line L9 Sud.
T-4 cards must be validated for every journey on public transport.
The body that establishes the characteristics of the travel card is Àrea Metropolitana de Barcelona (AMB).
For more information, see the terms of use of tickets.
Requirements
This travel card must be use in conjunction with one of the following ID cards:
Reduced-fare "Targeta rosa metropolitana"
Reduced-fare "Carnet rosa metropolità"
These cards entitling holders to buy the T-4 can be applied for by people who have a recognised disability equal to or greater than 33% or who are over 60 years of age (this age varies according to municipality) and who are registered residents of a municipality of the Barcelona metropolitan area. Entitlement to the card is dependent on annual income and the municipality of registered residence.
For detailed information and processing of the targeta rosa, go the Àrea Metropolitana de Barcelona website.
See processing of the FGC pensioner's card on the FGC website.
Prices of the T-4 travel card by zone
Points of sale
TMB metro automatic vending machines
TMB information and customer service centres (Punt TMB).
Authorised outlets (tobacconists', bakeries, newspaper kiosks).
Other travel cards