Single urban bus ticket
You can buy single bus tickets and validate them from TMB App.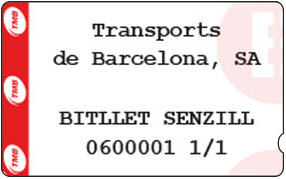 Number of journeys: 1
Validity: All
Description
A ticket valid for a single TMB bus journey. This is an individual non-integrated ticket.
For more information, see the terms of use of tickets.
Buy your ticket or travel card before getting on the bus
As a preventive measure due to Covid-19, single tickets are not sold on the bus. You can buy them and validate them from TMB App itself.
You can buy other tickets and travel cards to use on the TMB buses, at the bus stops ticket machines, at the metro ticket machines and online on the web and with TMB App. When you buy online, you can collect your ticket or travel card from the metro network ticket machines.
Purchase and validate single bus tickets with TMB App
With the TMB App, you can buy single bus tickets and validate them on the application itself. This is very practical system as they are digital tickets stored on your mobile phone and you can validate them directly from the TMB App byscanning the QR code that you will find on TMB buses.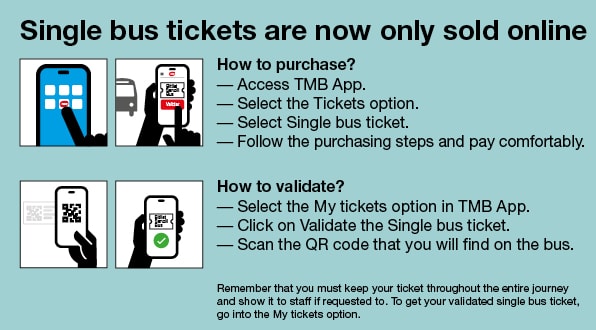 How to purchase a single bus ticket with TMB App:
Download the TMB App for Android or for iOS.
Register or log in to JoTMBé.
Go to Tickets.
Look for the single bus ticket and click Buy.
Choose the number of tickets (up to a maximum of 5 in a single operation) and click Buy.
When you have paid for your purchase using a payment card, the tickets purchased will be shown on the My Tickets screen.
When you get on the bus, look for your single bus ticket on the TMB App, select the option Validate and scan the QR code on the bus. Ticket validated!
If you want to see the single bus ticket that you have validated or you have to show it to the employees when requested, you can find it by accessing the option My tickets.
Advantages of buying with the TMB App
You have access to a simplified invoice of the purchase without having to do anything.
Request and obtain, at the same time, a full invoice of the purchase.
Return, within a maximum period of 120 days, all the tickets from the same purchase and get your money back.
Easily see the tickets and travel cards purchased and buy them again.
Watch the video to find out how the new single bus electronic ticket works.
Prices by zone