Tilling-Stevens restoration
This was the bus model that ran on the first bus network in Barcelona in 1922.
The Tilling-Stevens bus restoration is one of the key aspects of the Bus Network's Centenary celebrations. The conclusive implementation of the bus service in Barcelona, in 1922, with buses such as the General Bus Company (CGA), is the precursor to our current bus network.
Restoration work has enabled the recovery of the original petrol-electric, a pioneering system in current hybrid vehicles, the reconstruction of its upper deck with the roofless imperial and the curved exterior staircase used for getting on the bus. The bodywork's finishes have resurrected the characteristic red colour of the English buses that used to travel through Barcelona 100 years ago.
The TMB Foundation's historical Tilling Stevens bus was restored by Consman specialists, under the supervision of the TMB Foundation technicians and with advice from the historian Albert González.
You can find further information from the TMB Foundation website, where we have incorporated Tilling-Stevens into the historical vehicle collection and you can also visit the exhibition of this exceptional vehicle in Espai Mercè Sala until 8 September.
Exhibition at Espai Mercè Sala
From April 7 to September 8, 2022, TMB's Historical Heritage department curated an exhibition on the vehicle's restoration process.
The exhibition also hosted the 1:7 scale model based on the dimensions of the restored vehicle, which faithfully reproduced the bus down to the smallest detail, both exterior and interior. In fact, the hood is hinged and you can see the engine inside.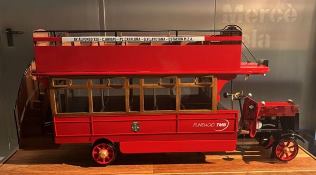 To build it, 3D technology for the structural parts was combined with artisanal work for the wood paneling of the interior and all the details of the exterior.
You can find more information about the exhibition on the TMB Foundation website.