T-Acompanyament
A ticket enabling those accompanying persons with special needs to travel free.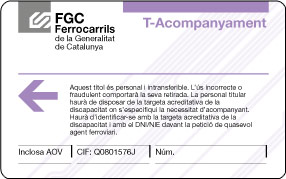 Number of journeys: Unlimited
Validity: Specific
Description
This card enables the holder to use the metropolitan lines of FGC Barcelona-Vallès and Llobregat-Anoia and the collective public transport services among the Metropolitan fare municipalities, including Aeroport T1 and Aeroport T2 metro stations on line L9 Sud.
The T-Acompanyament holder must validate the corresponding travel card and must carry with him the T-Acompanyament that allows his companion to travel free of charge.
It is valid annually and renewal must be requested periodically if the conditions to be a beneficiary are maintained.
You can find all the information and how to go about getting the T-Acompanyament on the FGC website.
The body that establishes the characteristics of the travel card is FGC.
Requirements
To accompany a person who has recognised the need to be accompanied when traveling by public transport.
Prices of the T-Acompanyament travel card by zone