How to travel on public transport
Hygien measures to travel safety on the metro and bus
General measures on public transport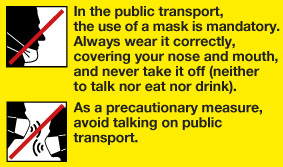 The use of the mask is mandatory in the public transport. On the subway and on the bus, always wear the mask correctly. You always have to wear it covering your nose and mouth and never take it off (neither to talk nor eat nor drink).
As a precautionary measure, avoid talking on public transport.
Avoid peak times.
Wash your hands frequently with soap or hydroalcoholic gel.
Leave space between other passengers when validating a ticket.
Spread out along the metro cars and buses as much as possible.
Use disposable paper tissues and when you sneeze, cover with your inside elbow.
Avoid using public transport if you feel unwell or are in a risk group. Do not travel, under any circumstances, if you have been diagnosed with coronavirus or if you have any symptoms of the disease.
In the Covid-19 section you will find all the information about the new normality on public transport.
Make an orderly queue at the entrance and exit of stations.
When walking through the station corridors, please walk on the right-hand side.
Do not fill up the lifts.
Spread out along the platform. At the metro connections, follow the signs on the floor..
Remember that bus drivers do not sell tickets and they are recommended to have minimum interaction with users. With TMB App can buy single bus tickets and validate them from the application itself. You can also buy and validate the ticket on board the bus directly with your bank card.
Find out about the tickets you can use on TMB buses and where and how to buy them.
Average levels of occupancy on the metro and on buses
Average occupancy levels on the metro and bus