T-Dia
Individual travel card for an unlimited number of journeys in one day.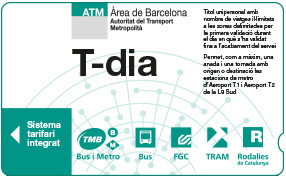 Number of journeys: Unlimited
Validity: Daily
Description
Individual travel card valid for an unlimited number of journeys in the zones delimited by the first validation, on all modes of transport according to the zones to be crossed (1 to 6 zones). Validity: 1 day from first validation to end of service. Valid also for Aeroport T1 and Aeroport T2 metro stations on line L9 Sud.
The body that establishes the characteristics of the travel card is the Autoritat del Transport Metropolità (ATM).
For more information, see the terms of use of tickets.
Prices by zone
Points of sale
TMB bus and metro automatic vending machines.
TMB customer service and information centres (Punt TMB).
Other Integrated Fare System operators (stations).
Servicaixa.
Other operators' information centres.
Other travel cards