T-16
Ticket for children aged 4 to 16.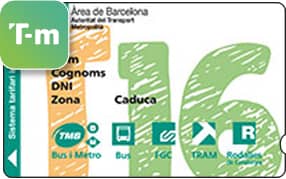 Number of journeys: Unlimited
Validity: Annual
Description
The T-16 is a personal pass for one zone, for children and teenagers aged from 4 to 16 (up to 31 December of the year when 16 years is reached), with the name and identity document, valid for unlimited and free travel, while the pass is in force. Also valid for the Aeroport T1 and Aeroport T2 metro stations of Line L9 Sud.
The pass should be valid and accompanied by an identity document recorded in the T-16 (ID/Foreigner ID/passport/family book). If the document number shown in the T-16 is the family book number, it should also state the ID, Foreigner ID or passport (or photocopy) of one of the holders of the family book. In the case of trans minors, the name indicated in the T-16 and the supporting identity document may not coincide. In this case, it should be accompanied by a certificate from the administration corresponding to LGBT matters, which proves that your health card corresponds to the supporting identity document (ID/Foreigner ID/passport/family book), the number of which is indicated in the T-16. It is only valid for within the fare zone of the municipality of residence of the child who is the holder.
Apply for the T-16 in the ATM website. The T-16, which has an issue and management charge, will reach your home within 30 days from when the corresponding checks were made. For applications made during the months of July and August, the issue date of the card is above the usual period. More information on the T-16 in the ATM website.
The organization that sets the characteristics of the pass is the Autoritat del Transport Metropolità (ATM)
For more information, please consult conditions of use of tickets.
Requirements
Children

aged 4

to 16 years.
Prices of the T-16 travel card by zone
Other travel cards