Recommended transport
Date: Saturday, 15 April.
Time: 8.45 pm.
Recommended transport: you can get there by bus (numbers D20, H8, H10, 50, 54, 57 and 157) or metro (nearest stations L3: Palau Reial, Maria Cristina and Les Corts, L5: Badal and Collblanc, L9 Sud: Collblanc). You can get back on the metro (on Saturdays the metro runs all night) or on the special bus that runs from Camp Nou to Plaça de Catalunya, and from Camp Nou and Els Jardins de Mossèn Cinto Verdaguer (tickets: €3 each).
For more details on the match, go to the FC Barcelona website.
How to get there and back on public transport: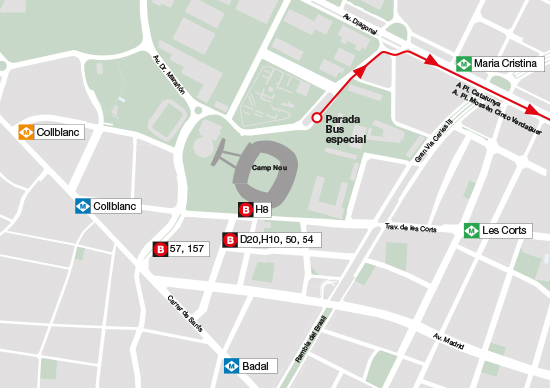 More information
For queries, TMB operates a helpline on 902 07 50 27 (Monday to Sunday, from 8.00 am to 9.00 pm) and a customer information and services profile on Twitter (Monday to Friday, from 7.00 am to 8.00 pm).
For information on other events that may affect public transport services or for recommended transport, go to the "Service status" section.